專業網球教練
教練資料
Lam Wing Lun林永倫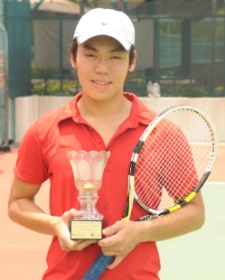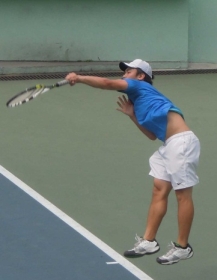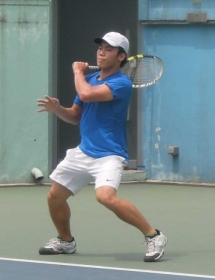 本人自小開始接觸網球, 十歲首次參加網球比賽, 15歲開始參加國際性比賽, 曾到亞洲和歐洲多個國家進行訓練及比賽, 多年來獲得多個本地及國際獎項, 2011年在臺灣考獲美國職業網球教練協會(PTR) 註冊教練執照, 對網球運動有豐富的認識和了解, 現在希望透過教學將自己的網球知識分享給大家, 令大家享受到網球的樂趣
| | |
| --- | --- |
| HK National Men's Ranking香港男子單打 排名 | No. 2 (Apr2012) |
| Highest ITF Junior World Ranking:國際青少排名 | NO491 (21 Dec 2009) |
Career highlight
2007 Member of Hong Kong Junior Davis Cup Team, Junior Davis Cup Asia/Oceania Qualifying in Bangkok, Thailand
2007 Hong Kong Boys' 16 & under Single Ranking No.1.
2008 Hong Kong Junior Tennis Series Grand Master' 18 and under Singles Champions
2008 Hong Kong National Tennis Championships Mixed Doubles Champions
2009 ITF Junior Ranking 491(21 Dec 2009)
2009 Lions Hong Kong National Junior Tennis Championships Boy' 18 and under Champions
2009 Hong Kong Crc Open School Boys Single and Doubles Champions.
2009 Hong Kong Boys' 18 & under Single Ranking No.1 and Doubles NO.2.
2010 Member of Hong Kong Davis Cup Team, Davis Cup Asia/Oceania Zone Group II First Round: HKG v PAK
2011 Hong Kong National Men's Ranking No.2(19 Oct 2011)
2011 Won back-to-back matches to qualify for the maindraw of the China F6 Futures at
Guiyang.
2012 Hong Kong Men's Single NO.2
2012 Hong Kong National Tennis Championships Men's Open Single Runner-up
2012 USPTR Coaching license
聯絡方法
Ray Lam 林永倫教練
Tel: 96006510
收費標準
a) 1人 $500/小時
b) 小組(2人) $600/小時
c) 小組(3-4人) $700/小時
*費用包括網球,場租,各種用具,另可免費借用網球拍